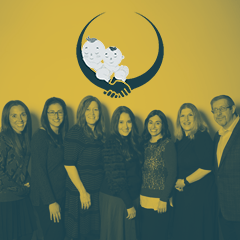 The Volunteers of the Project Ezrah Baby Gemach
Ginnine & Avi Fried
Ginnine and Avi are temporarily living in an apartment in Hackensack, NJ.They have 12 year old twins, Ariella and Mason. Ginnine is an attorney who represents Homeland Security in administrative court. She has a local children's dance party and face painting business. She currently runs an after school club at Yeshivat Heatid and works at Friendship Circle as well. Avi owns his own business focusing on eCommerce.They daven at BMOB (Beis Medrash of Bergenfield). They have coordinated the Baby Gemach since 2010, and are fortunate to have become a part of the Project Ezrah family in 2021. "Coordinating a Gemach is like being an air traffic controller: we direct people where to go so that they can fly. We are the conduits supporting all the moving parts." As a social media junkie, Ginnine has redirected her tendencies by matching donors within the community to fill particular requests. Avi tirelessly collects the pushkas located in local restaurants to fund diaper donations.
Tamar Snyder Chaitovsky
Tamar Snyder Chaitovsky serves as the Senior Director of Marketing & Communications at Jewish Communal Fund, the largest Jewish donor-advised fund in the country, managing $2.6 billion in charitable assets. An award-winning journalist, Tamar worked for several years as a staff writer at The Jewish Week in New York. She holds a master's degree in journalism from Columbia Journalism School, a Masters in Public Administration from NYU/Wagner, and an MA in Hebrew and Judaic Studies from NYU. A Certified Educator in Personal Finance, Tamar is a sought-after speaker on the topics of personal finance and philanthropy. In addition to running the baby clothing gemach in her basement, Tamar coordinates Project Ezrah's The Aisle program, which provides engaged and newly married couples in our community with the financial know-how and tools to discuss money in a productive way and build secure financial futures for themselves and their families. Tamar lives with her husband and four children in Teaneck, and davens at Beth Aaron.
Shana Schmidt
Shana Schmidt lives in Bergenfield, NJ with her husband Jonah and their three children, David, Adena, and Hanna. They daven at Congregation Beth Abraham. Shana is an occupational therapist for students with special needs. She is also a shomeret for the Teaneck Mikvah. Shana runs the diaper portion of the Project Ezrah Baby Gemach. She collects both opened and closed boxes and bags of diapers. She reorganizes her supply and distributes it for those that need it. If they do not have a specific diaper to cover the needs of a recipient, she can order it for them.
" I am honored to be part of Project Ezrah knowing that I can facilitate a way for diapers to be distributed in a dignified manner."
Deborah Pearlman
Deborah Pearlman lives in Bergenfield, NJ with her husband David and three kids; Yishayaa,16, Leora, 15, and Sammy, 13. They are members of Keter Torah in Teaneck. She has been working at The Frisch School for 14 years. In addition, she is a real estate agent in Bergen County with Links Residential. She started volunteering with the baby gemach three years ago. She helps coordinate the collection and storage of formula donations.
"With the large amount of various types of formula and brands, it is really important that we collect as much as possible so we can fulfill all our recipients' needs."
Stacy Horowitz
Stacy Horowitz has been volunteering as the equipment coordinator for the Project Ezrah baby gemach since 2017. She connects individuals who donate baby equipment (strollers, car seats, cribs, infant swings, toys, etc.) with recipients who are in need of these items, and facilitates pickup up/drop off. Stacy lives in Bergenfield with her husband Shabtai and their children Yael (11), Avital (8), Joey (5), and Ezra (1). The Horowitz family davens at Ohr Hatorah and sends their children to Yeshivat Noam and Anshei Lubavitch. She works as a Speech-Language Pathologist at a public school in Maywood, NJ.
Sipporah Tracer
Sipporah Tracer lives in Teaneck, NJ with her husband Daniel and 4 kids: Sarah (11), Akiva (8), Judah (6), and Josh (2). Sipporah and her family are members of Ohr Saadya, a warm congregation in the South of Cedar community, and her children attend Ben Porat Yosef. Sipporah is an occupational therapist (OT) and international board certified lactation consultant (IBCLC) in private practice in Bergen County. Since 2017, Sipporah has been running the breastfeeding gemach, a resource for lactating mothers that provides free breast pumps, pillows, scale use, and breastfeeding supplies to those who need it. The Project Ezrah breastfeeding Gemach accepts donations from community members and is located in Sipporah's attic where she has the supplies ready to go whenever mothers need them. You can email [email protected] to reach the breastfeeding gemach for drop off or pick up location.